Conversational AI for more efficient businesses?
---
Request an Artificial Intelligence Chatbot demo
We can transform your business
---
AI bots are a match for improving your customer experience & operational efficiency.
Based on natural language processing, it understands customer needs and the context of every conversation.
By solving problems and connecting with users through personalized conversations, Conversational AI bots increase customer satisfaction and have been boosting conversion rates.
Always friendly
Automation
Intelligent based decisions
Consumer behavior predictions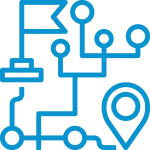 Customer journey improvement
Available 24/7
Watch Conversational AI Chatbots in action
---
Article: Noesis launches chatbot in the banking sector 
---
Noesis developed and implemented a solution using conversational artificial intelligence technology to help a well-known international bank, that operates in Portugal, to respond more quickly and efficiently to the growing number of calls related to moratorium processes.
Noesis' chatbot offers a better customer experience in its interaction with the bank, automates processes while optimizing responsiveness.
The virtual assistant allows the client to autonomously and intuitively access all the information necessary to initiate the moratorium request process, being guided by the Bot throughout the entire process.