Are you taking advantage of your Microsoft security resources?
Today, more than ever, organizations are exposed to numerous cyber threats. Remote work and faster-sophisticated attacks are the perfect matches for attackers to access inside information and cause irreparable damage to companies worldwide, no matter what their size. Cybersecurity is a 'must' nowadays, and sometimes the solutions are already in-house.
Talk to an expert!
---
Get in touch, and we'll be glad to set up a meeting with our team of experts to evaluate your security current situation and help you create a more safe environment in your organization.

Cybersecurity & Compliance landscape
---
Increased cyber threats during pandemic
55% of small businesses and 70% of medium organizations experienced at least a 25% jump on cyber threats during pandemics.

Exponential increase in phishing attacks
Growth of 217% between February and March 2020.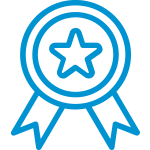 GDPR breach notifications
From 28 January 2020 to 27 January 2021 there were, on average, 331 breach notifications per day (a 19% increase from the previous year).