Qlik Sense Business Trial
Get started today. Sign up for your free 30-day trial

With Qlik Sense Business, there's no software to download or install. Quickly combine your data to create rich, interactive visual analytics in our secure cloud environment leveraging Qlik's powerful Associative Engine.
Powerful cloud analytics made easy.
---
Qlik Sense is a complete data analytics platform that sets the benchmark for a new generation of analytics.

With its one-of-a-kind associative analytics engine, sophisticated AI, and high-performance cloud platform, you can empower everyone in your organization to make better decisions daily, creating a truly data-driven enterprise.


Try Qlik Sense now! No obligations, 100% free!
Get started today. Sign up for your free 30-day trial.
---
30 Days to explore the world of data!]
Easily associate multiple data sources
Drag-and-drop your data to create fully interactive analytics apps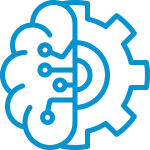 Get AI-generated insight suggestions, automatically
Schedule automated data refreshes
Share and co-author with your group or team in a governable environment
Enter in a new generation of analytics.
---
Create, share and distribute powerful dashboards to support executives, business leaders, and anyone else that needs to stay on the pulse of the business. Every element is interactive, taking users beyond the static dashboards of the past.