iNoesis
---
38th Edition, October 2022
iNoesis is Noesis' corporate magazine that gathers the most relevant topics in the sector.
Digital Trust: collecting, storing and using digital information without compromising it. It's a priority for clients and a huge challenge for organisations. And because we discuss the big topics in technology, this is the main theme of this issue.
In the central article of the magazine, we share relevant content and indicators, prepared by IDC and testimonials from important organisations, from different sectors of activity, such as Altice Portugal, Grupo Maisfarmácia, Lusitania Seguros and IP TELECOM.
Want to know more about topics such as Cybersecurity, Business Intelligence, Process Mining and many others?
Consult our digital magazine and read the following topics in full.
Trust! The Digital Key to Digital Acceleration 
---
In this edition's editorial, Alexandre Rosa, Noesis' CEO, reflects on the magazine's cover theme: "Resilience is one of the watchwords in the period and context we are going through. It has entered the lexicon of managers and organizations. In the technology sector, the definition of resilience takes on another dimension."
"As far as Noesis is concerned, after the year of 2020, where we absorbed the impact of Pandemic and consolidated our integration in Altia Group, we look to the future with an optimistic perspective and with the forecast of strengthening our operation."
Click here to continue reading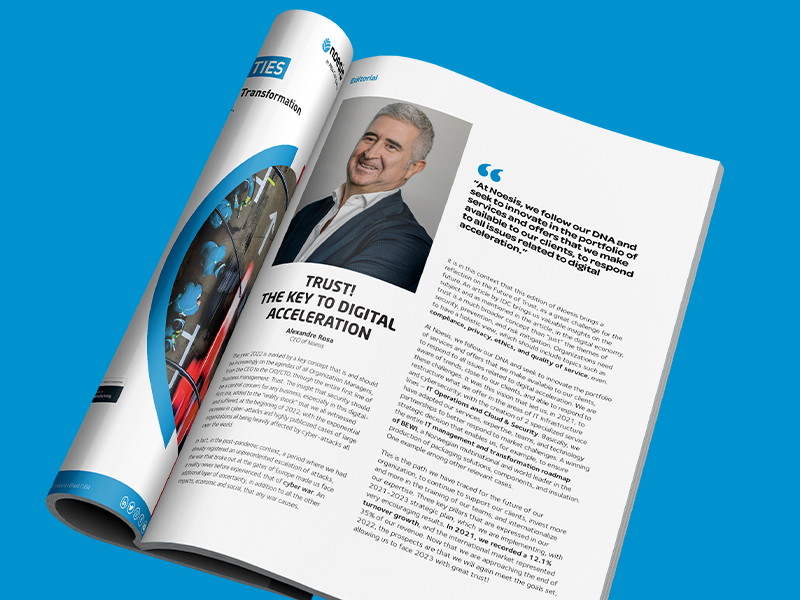 Digital Trust at the heart of Organisations' Strategy  
---
To reinforce the relevance of the main theme of this edition, Nelson Pereira, CTO at Noesis, reflects on how Digital Trust appears vital for companies after eras such as Digital Transformation and Digital Resilience.

An increasingly synchronized performance of organizations is necessary to reduce the risk of destructive attacks. Discover the pivotal points to strengthen the security system of your business.
Click here to continue reading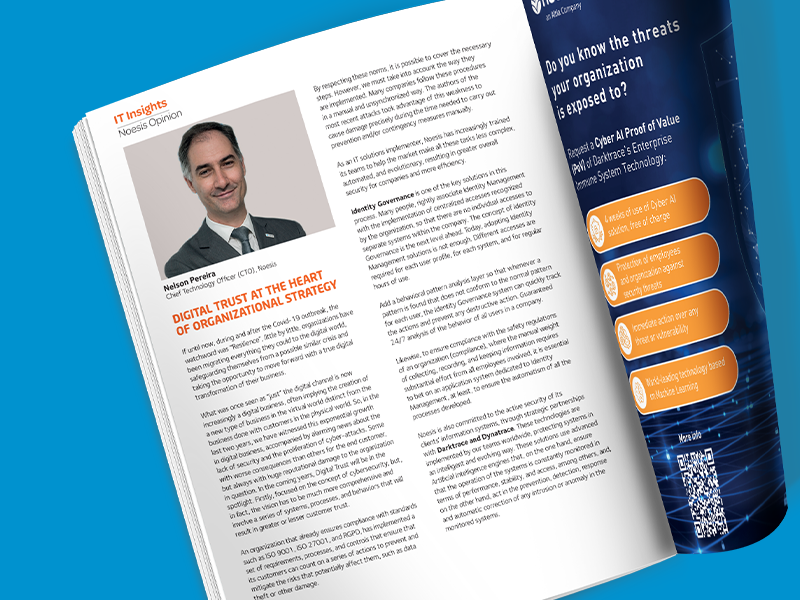 Do you want to receive the magazine at your home?
---
If you are interested in any of the topics presented, don't hesitate to read the full version of the magazine in digital format.
On the other hand, if you prefer the feeling of a good read on paper, don't worry. We will send the magazine to your home at no extra cost.
Just fill out the form, and we'll take care of the rest!