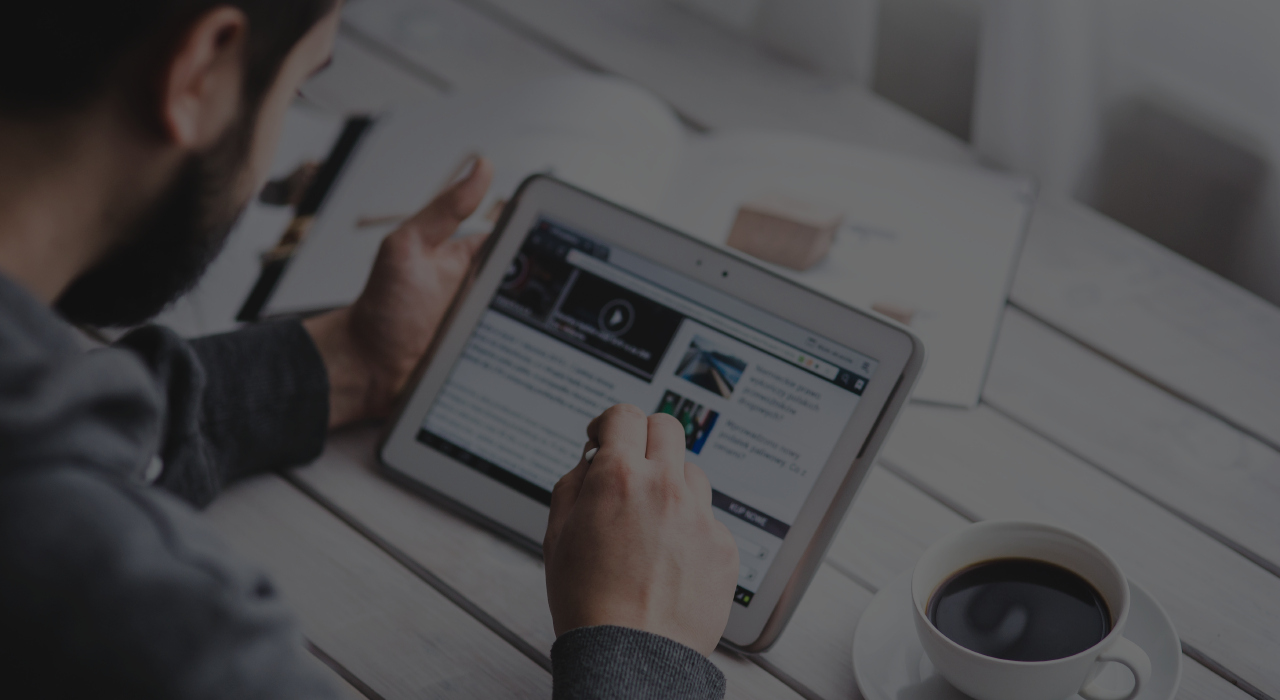 Another edition of NextStep 2020 has ended. This year the no.1 Low-Code event in the world had as main novelty the transition to the virtual world, adapting the format to the extraordinary circumstances that we are living. The transition to virtual was also an opportunity to reinforce the focus on content and to bring more knowledge, insights and sharing experiences to more people.
The new dynamic presented by OutSystems went through a unique event on a global scale divided into three time zones, Americas (EDT), EMEA (CEST) and APAC (SGT). With over 50 sessions and 30 hours of exclusive content, participants can embark on this experience by watching different sessions depending on their goals and experience levels - Keynotes, Tech Tracks, OutSystems In Real Life, Introduction to OutSystems, OutSystems Adoption Best Practices
Noesis, Premium Sponsor of the event, raised the bar under the motto Low-Code for Higher Possibilities. At the Noesis stand, participants were able to learn about Noesis' journey on Low-Code and a partnership of more than 10 years with OutSystems. With a strategy focused on content and sharing stories, visitors were able to learn about the success stories of Noesis customers, read articles written by experts and discover White Papers on DevOps, Infrastructure and the automatic testing tool - the ntx ®.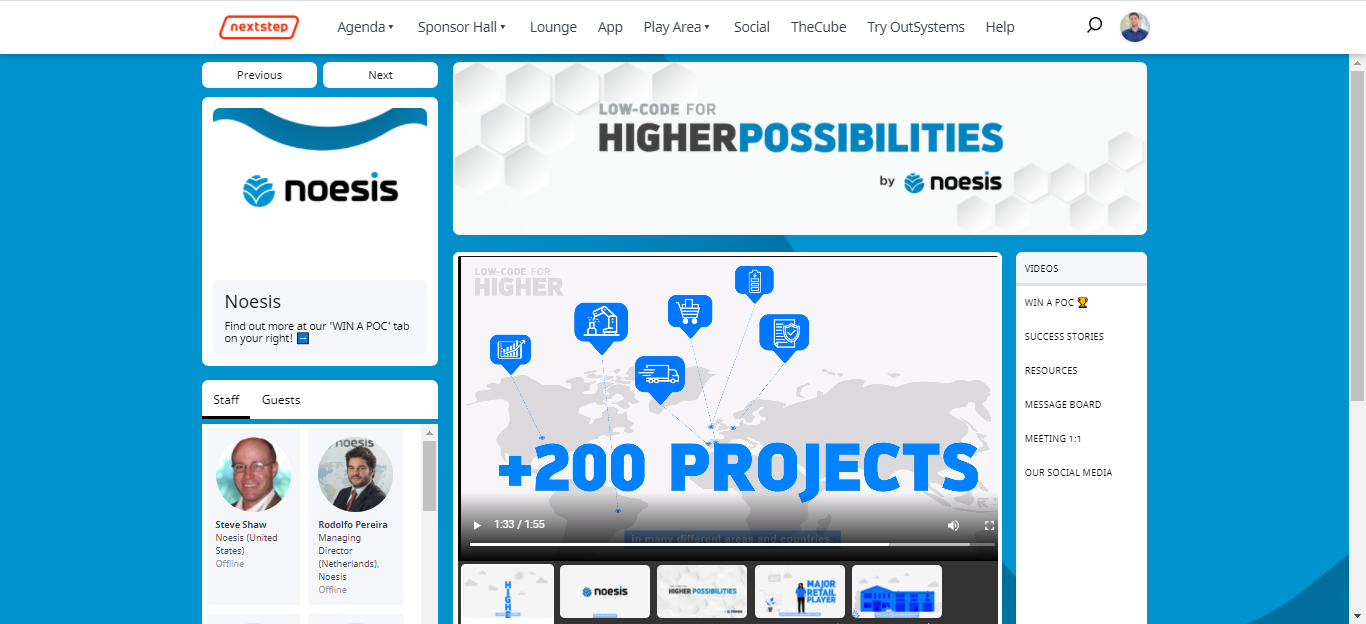 Noesis' Virtual Booth

We are offering 6 Proof-of Concept for application development in OutSystems. - Submit your idea to an app HERE

Day 1
The event started with the announcement of the Innovation Awards 2020 winners. It was with pride that Noesis saw, for the 13th time, a customer being recognized with an award, this time in the Enterprise Transformation category! See all the winners here.
As usual, Paulo Rosado, OutSystems' CEO, opened the event presenting the key numbers of the company that has more than 1,400 customers. Paulo highlighted the growing importance of the developer community that has grown over 90% (!!!) as well as the partner ecosystem of more than 300 partners that help customers achieve their business goals on a daily basis.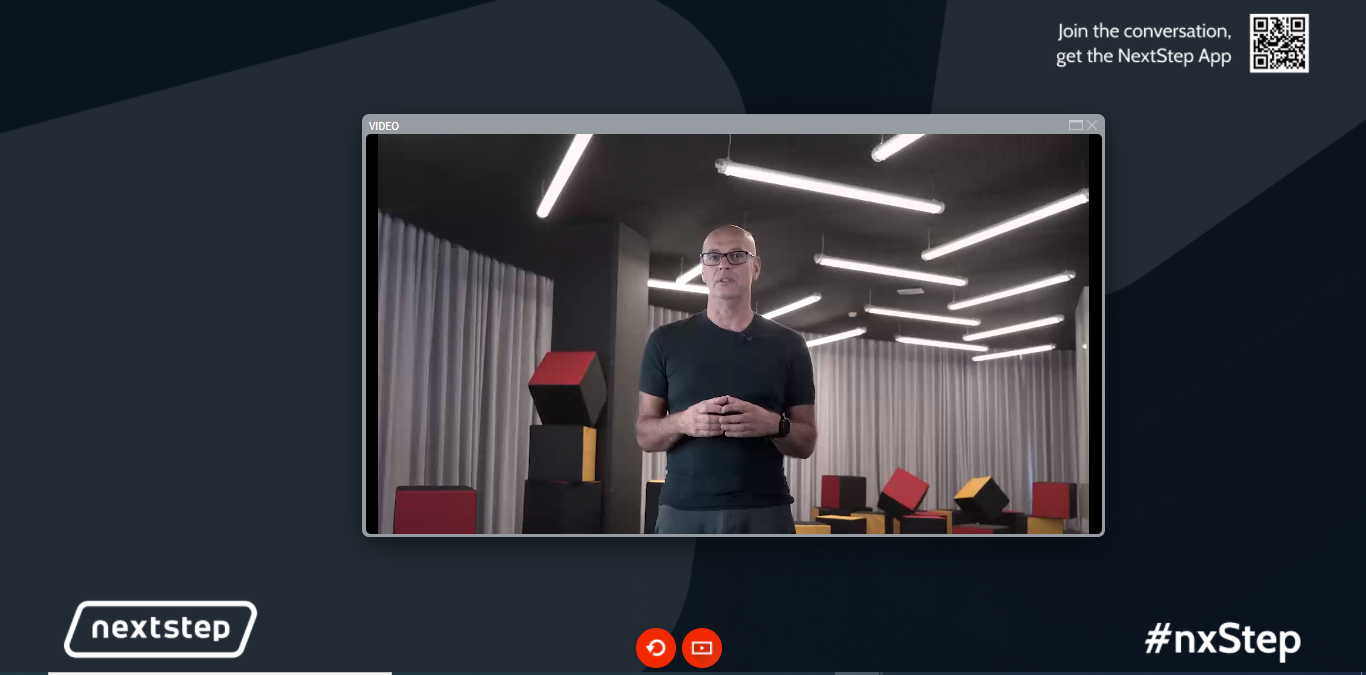 Opening session with Paulo Rosado

The opening session also featured Gonçalo Gaiolas, VP of Product at OutSystems, who brought some novelties in the platform that promises to make the product development cycle even faster.
1. OutSystems "Builders" - To allow developers to quickly build applications, with a strong visual component.
_Workflow Builder - allows visual mapping of complex business processes and the automated creation of high-performance applications based on the workflow.
_Experience Builder - allows developers to create prototypes of mobile applications, which enhance common patterns and flows and turn them into applications ready to go into production.
_Integration Builder - allows you to integrate data with other existing systems, such as SAP and Salesforce, ensuring that integrations are quick and easy to implement while being secure and scalable.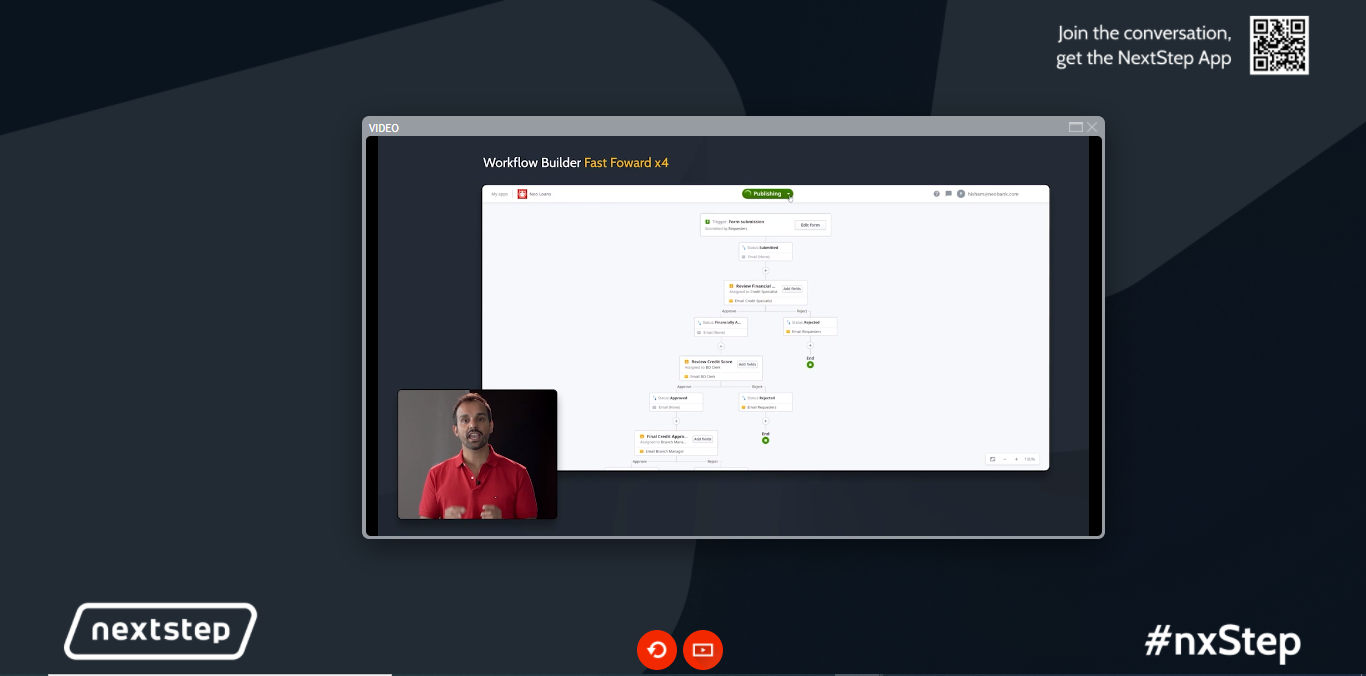 Gonçalo Gaiolas presenting Workflow builder
Another novelty was the AI Assist tool – aiming to turn developers up to 100 times faster, OutSystems included artificial intelligence (AI) in its platform to automate, guide and validate the development and application life cycle. AI Assist allows a faster delivery of high-performance applications.
2. Building Applications "Right" – Besides build fast, it must be build right.
Architecture Dashboard - helps IT visualize and enforce complex cross-portfolio architectures built with OutSystems and identify issues early in the development lifecycle.
AppShield - a tool that is automatically integrated during implementation to protect applications from malware, code rejection and tampering.
3. Building Applications for the Future – helping customers deliver modern applications capable of evolving as quickly as their organizations change and as new technologies are introduced.
_TrueChange - AI to help developers check for bugs and architecture errors, and the analysis of changes on component and application dependencies, providing team and architectural governance, and even to monitor performance in real-time.
_Machine Learning Builder - developers can easily create custom AI applications with rich personalized experiences, analyzing customers' behavior to improve a chatbot experiences for example.
Among the approximately 20 experiences, the themes that created the most buzz in the community were the introduction of Artificial Intelligence and Machine Learning on the platform, as well as some improvements to the graphical interface with the announcement of the new 'Dark Mode'.
Noesis was also the sponsor of the 'Integration with no Boundaries' session, presented by Juan Ramirez and Francisco Carvalho from OutSystems, to help support developers to visually and easily integrate REST API, use the OutSystems Forge and even take advantage of the extensibility of C #.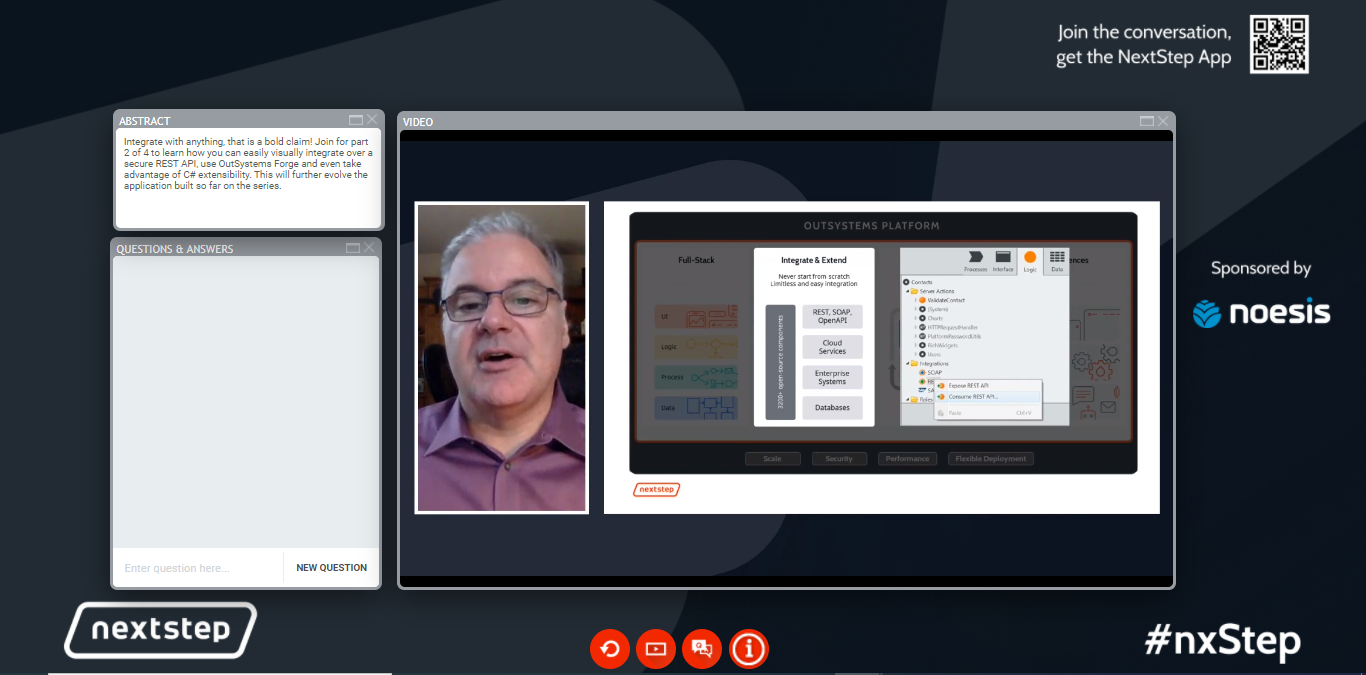 'Integration with no Boundaries' session
Day 2
The second day brought about 30 sessions! The opening Keynote was in charge of Paul Vincent, Research Director at Gartner, who presented some market data on the importance of Low-Code and some perspectives for technology in a near future. Recognizing that software development is still quite manual, by using code, the adoption trend is evolving as expected. When asked about what is the main driver for Low-Code adoption, 76% of the respondents stated that productivity as the main reason, with the faster 'time-to-market' and business process automation as the following ones with 67% and 63%, respectively. Also 76% of the participants stated that the dissemination of Low-Code extends to the entire organization and instead of being centralized in specific business areas. Finally, Paul revealed that the market looks at Low-Code as a choice of security and usability and that Cloud functionalities are a key factor in users' perception as beneficial for their organizations.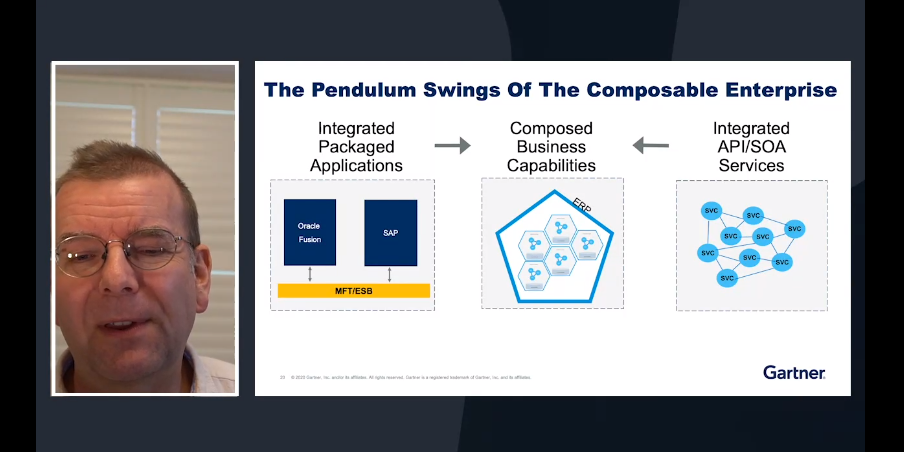 Keynote with Paul Vincent from Gartner
The remaining sessions focused on several aspects, such as the agility and capabilities that OutSystems' platform and Low-Code bring to the business world. Some features presented in the previous day were also highlighted, such as AppShield or Machine Learning Builder.
Finally, we highlight the 'OutSystems Meets DevOps' session, sponsored by Noesis and presented by Paulo Fernandes and Iikka Salmi from OS, which focused on the Application Life-Cycle (ALM) and the DevOps capabilities that users can experience with the platform. The session touched on several topics, from software testing to Quality Assurance, but above all, they have demonstrated that DevOps is a culture shift that helps to accelerate the application life cycle.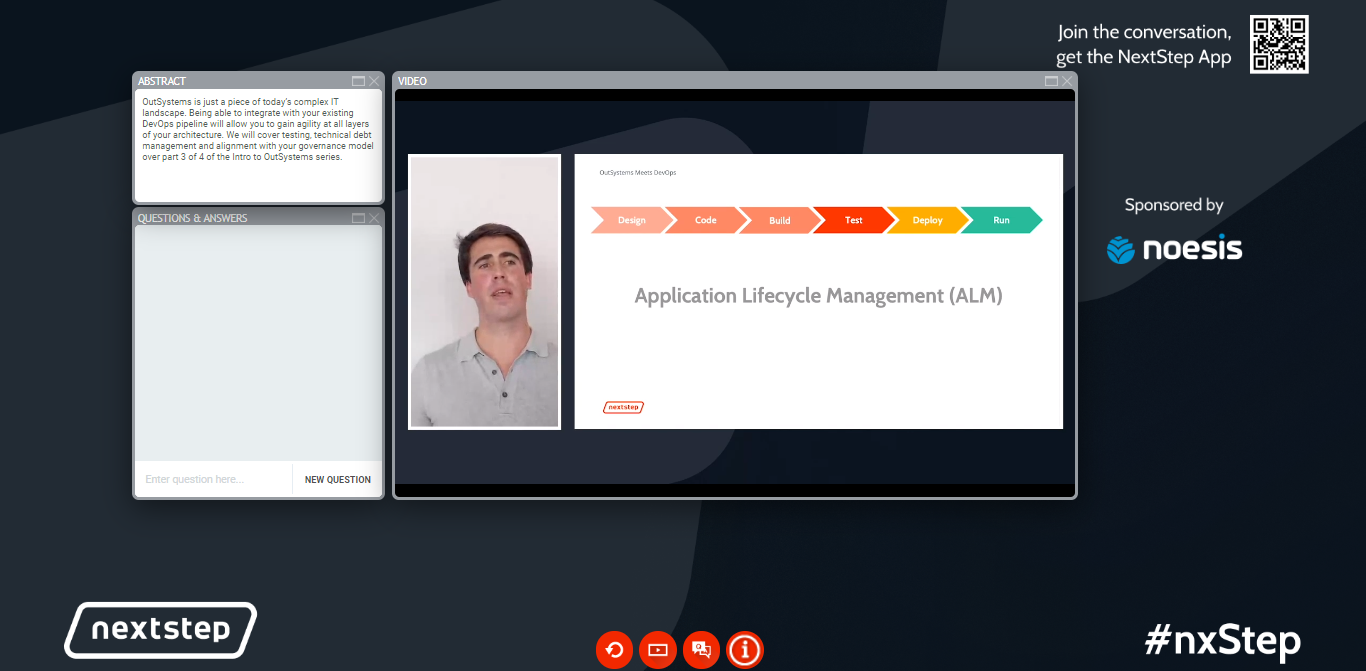 Paulo Fernandes presenting 'OutSystems Meets DevOps'
Another edition of NextStep has ended, this one a special and virtual one. To conclude this two-day ride in Low-Code with Outsystems, we reinforce the strong words from Keynote of Paulo Rosado - Build it Fast, Build it Right, Build for the Future!